Installation by Alessandro Perini

TACTILE HEADSET
Created originally at the Citysonic residency at Park in Progress (Mons, Belgium) in 2014, this installation explores tactile perception of sound as vibration. Four vibrating polystyrene spheres were built, hanging from the ceiling and sound was traveling from sphere to sphere. As an effect of this, the audience experiences the sound through their the bones and skin on their foreheads, as in a tactile quadraphonic headphone set. This work references headphone listening (even binaural listening, since there were four sources), translated into the tactile domain. The final version of the installation brings the spheres remade in wood by VAHA/Rossella Siani, created for the exhibition at Cooper Hewitt design museum of New York in 2017/18, when the internal contact transducers were replaced by vibration motors.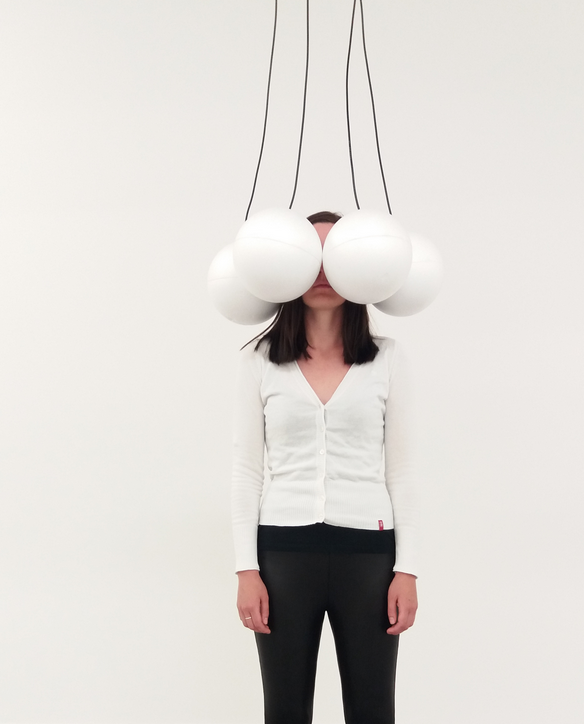 Alessandro Perini studied Composition, Electronic Music and Science of Musical Communication in Italy and Sweden. His very broad artistic production ranges from instrumental and electronic music to audiovisual and light-based works, net-art, land-art, vibration-based works, and custom-built machines. He has been teaching courses in audiovisual production for the arts at the Conservatory of Como (Italy) and in the Composition department (electronic music course) at the Music Academy of Malmö, as well as in workshops of sound art and multimedia in Italy, Argentina and Bolivia.
In 2014, Perini started a research about vibration and tactile sound entitled touchmysound, including projects at the Darmstadt Ferienkurse and residencies at Cittadellarte – Fondazione Pistoletto (Italy) and Park In Progress (Belgium). During his residency for visual arts in Chiaravalle (2016, Milan) for Imagonirmia Prize, he realized a series of projects on site-specific sound art; he was in residence at I- Park Foundation in Connecticut (May-June 2017); at the residency at Fondazione Spinola Banna per L'arte (2018, Italy) he designed three machines to modify the clay found on-site, as well as at the BIOART Society (2018, Finland). Alessandro Perini participated at numerous international festivals and venues.